July 1, 2010
1:23 pm

Steve

Dan's Club

Dans Club
Forum Posts: 10330
Member Since:
March 2, 2008

Offline
One of members (pinetor)  made a great video demonstrating the method for removing and installing barrel/shroud assembly and the grip:
Safety Reminder: As it states at the beginning of the video, always assure that the revolver is unloaded.
I went to a bookstore and asked the saleswoman "Were is the Self Help Section?" She said if she told me, it would defeat the purpose.
George Carlin
July 3, 2010
11:23 pm

Charger Fan
Northern Utah

Supporter
Members

Moderators
Forum Posts: 10534
Member Since:
January 24, 2009

Offline
October 15, 2011
9:36 am

Gary J
Georgia
Forum Posts: 849
Member Since:
May 3, 2011

Offline
August 8, 2013
7:16 pm

Bob
Lake Worth, FL
Forum Posts: 51
Member Since:
July 9, 2013

Offline
March 8, 2016
6:18 pm

Mike0251
Forum Posts: 2
Member Since:
March 8, 2016

Offline
First let me thank the sticky (FAQ) on barrel removal. It aided me greatly in removing mine. I recently acquired an 8″ version and promptly stripped the barrel nut. The gun had not been fired in over 10 years. I read the barrel removal closely and tried to make it a better mousetrap. I'm an aerospace engineer and not fond of vise grips on all thread so this is what I did.
Mcmaster Carr parts: One 9″ long 5/16-18 steel bolt #91257A122, bag of small diameter flat washers #95229A460, and one bag of small hex nuts #94191A200. Total cost $21.72.
I figured using a hex nut in the cylinder area would allow me to add torque during the loosening attempt. Not a lot of wrench clearance. No go. To tight. Then I added another nut (jam) and tightened everything as much as I could using a soft jaw vise. Next I heated the frame with a heat gun until I saw some bubbling around the threads in the cylinder area. Using all my hand strength, no go. So I said a few choice words and brought out the 3/8 butterfly impact wrench to put on the hex head on the end of the barrel. Just hit it a little bit and boom that bad boy came right off. After pulling the barrel from the shroud do you know that barrel nut came right off by hand? Go figure.
Anyway my first post here and I thought I would pay it forward for the initial help I found here.
Thank you,
Mike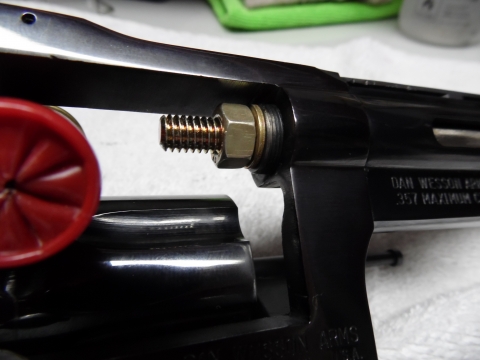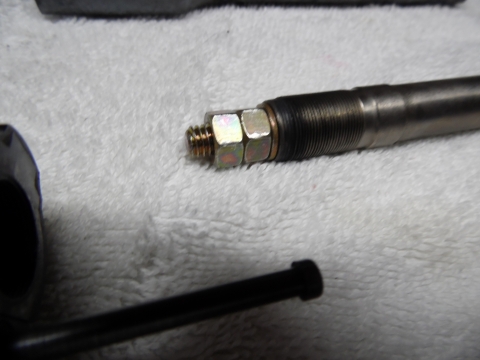 April 9, 2019
9:57 pm

J4L3PP
Forum Posts: 18
Member Since:
March 28, 2019

Offline
I tried this removal method on my .357 SuperMag and 10″ barrel after the retaining ring notches were stripped while attempting to remove the barrel.  Unfortunately for me it did not work.  Too tight.  Off to the gunsmith it went.

Since I have two of these guns I tried to insure this won't happen to the other one by doing the following:
1) Applied anti-seize grease to the barrel and lock ring threads.
2) Avoid tightening the lock ring when the barrel is hot from shooting.  This is the main reason my other gun seized up.
3) Added a Muzzle Brake from EWK arms which means the barrel is locked in with the baffle inner piece instead of a lock ring.  The baffle has a wrench with much more leverage and is impossible to strip.  I will also add a brake to my other gun once it has returned from the Smith.

April 19, 2019
3:39 pm

photohause
Sebastian, FL
Forum Posts: 2194
Member Since:
February 20, 2008

Offline

April 19, 2019
7:51 pm

rwsem
SOWELA (Southwest Louisiana)

Supporter

Dan's Club
Members

Moderators

Dans Club
Forum Posts: 4645
Member Since:
February 22, 2009

Offline
Technically, the glass is always full; half liquid, half air....

Forum Timezone:
America/New_York
Most Users Ever Online: 134
Currently Online: superdan, mister callan
25 Guest(s)
Currently Browsing this Page:
1 Guest(s)
Top Posters:
Steve: 10330
SHOOTIST357: 4788
Dave_Ks: 4291
zoommb: 3157
Supermagfan: 3149
Blacktop: 3004
IHMSA80x80: 2692
Ole Dog: 2542
Stinger: 2492
brucertx: 2311
Member Stats:
Guest Posters: 87
Members: 7485
Moderators: 4
Admins: 1
Forum Stats:
Groups: 11
Forums: 42
Topics: 14906
Posts: 131491
Newest Members:
lankfactor, CanuckDWfan, mates64, Wkearney, Jeremy Allred, NMPinNYC, Flowers, Gene Pogasic, fofoo, likkerjoe
Moderators: lbruce: 3551, Charger Fan: 10534, rwsem: 4645, SCORPIO: 3668
Administrators: Jody: 6179