I would like to thank Seth Wesson Sr. and Eric Wesson for sharing the following information and pictures of the first Dan Wesson revolver with us!
Eric said:

My Dad Seth Sr., thought you guys should have a picture of this one.  I would call this the Holy Grail of the Dan Wesson's.   This is a picture of the first Dan Wesson Serial number X1.  If you look close the rear sight is fixed height, windage only  and the front is adjustable for height only.  Dan Wesson Arms is stamped on the barrel shroud.  Also on the side plate there is a logo stamped in it which is a DW. Along with this is the original other 2 barrel assemblies and an extra grip and barrel wrench.
Below are several images of the first Dan Wesson which is serial number x1.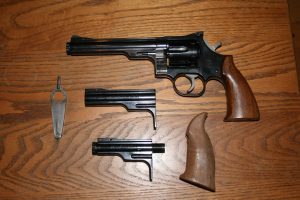 The next photo shows the side of the revolver with the Dan Wesson Arms logo.  Later variations do not have the logo stamped into the side plate.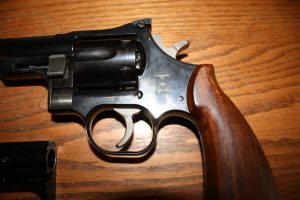 Notice Dan Wesson Arms stamped into the shroud!  It appears that the longer shroud above doesn't have the stamping.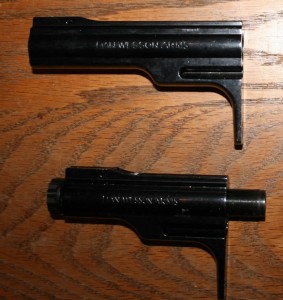 Very cool looking barrel tool accompanying Dan Wesson X1.