TZB
Forum Posts: 7
Member Since:
May 21, 2020

Offline
Dear community,
I look for a plan of foam's layout for pistol-pack 715.
I got my pack in the original case, with the original case in decay – it is gone by now.
I have the late MONSON, Mass production pack – with the blue-greenish foam, no yellow inlay and the black case (see below)
Therefor I ask if anyone has prints (digital, .pdf or paper) so I can get the foam cut

Scout728

DWF Supporters
Forum Posts: 233
Member Since:
December 7, 2020

Online
Yellow Fabric stock is posted here in the forum.    I think I still have the cardboard pattern trace of the factory American Tourister 44mag Pistol Pac case which is a bigger case than the Small frame 15-2 or 715 Brown Case.  Sound's like you already have the replacement foam?

TZB
Forum Posts: 7
Member Since:
May 21, 2020

Offline
Hi Scout728,
thanks for your reply. Unfortunately I have no foam yet. I need to order it and get it cut. And as everything today is digitalised, I need to send them prints of the cut outs, with dimensions.
My foam looked unfortunately disintegrateing (hope pictures uploaded this time).
As far as I my research is correct, my PistolPack 715, black case, must be one of the last before Monson-Facility closure - with all ins imperfections included.
I thik that the cases were all from American Tourister, but only the cutouts were "bit" different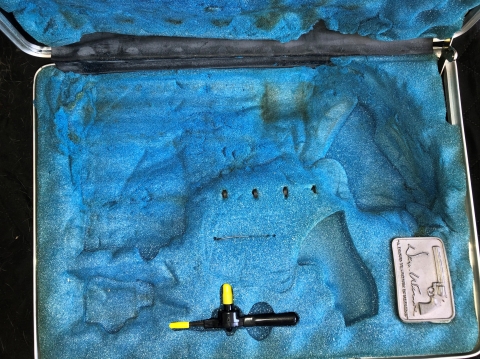 Scout728

DWF Supporters
Forum Posts: 233
Member Since:
December 7, 2020

Online
Need pic of latches to determine case Mnfctr; Samosonite or AT
Why not DIY?   Order new (either cut down to size or precut size)   Layout pistol parts arrangement, trace with sharpie, and cut with either razorblade on electric knife.   Take cutouts, cut to 1/2-3/4 thickness and re-insert into hole.   turn foam over and glue modified cutouts back onto foam insert. 
FOAM:   Take interior measurements of case.   Go to Pelican case website...(they have best foam) find case with identical measurements, and order replacement foam.
I use Harbor Freight replacement foam, although it has drawbacks:   It's pick-n-pull, but that's okay because I cover it with fabric.
Here's one of my DIY on a1983 Hunter Pac that had the same Blue Foam in Factory AT case:
Forum Timezone:
America/New_York
Most Users Ever Online:
343
Currently Online:
Steve S.
,
Scout728
,
2Brassballs
Currently Browsing this Page:
1
Guest(s)
Top Posters:
Steve: 10330
SHOOTIST357: 4788
Dave_Ks: 4300
Ole Dog: 3342
Supermagfan: 3192
zoommb: 3160
IHMSA80x80: 3014
Blacktop: 3004
Stinger: 2959
brucertx: 2311
2Brassballs
Harry Henry
William Horne
Montana.Adams55
Sryan
Jaclyn.Heaney
Amiya.Weissnat
Blaze_Haley42
Royce.Smitham84
Cali91
Forum Stats:
Groups: 11
Forums: 42
Topics: 16005
Posts: 140283
Member Stats:
Guest Posters: 88
Members: 8987
Moderators: 4
Admins: 1
Moderators:
lbruce, Charger Fan, rwsem, SCORPIO
©
Simple:Press
—