garryj
Northwest Florida
Forum Posts: 59
Member Since:
March 22, 2018

Offline
I recently got this Smith & Wesson SW22 Victory .22LR since I already had thousands of rounds of .22LR ammo. The fact that .22LR ammo is MUCH less expensive than 9mm, .45ACP or .38 Super (the other calibers I regularly shoot) also contributed to this decision. The version I got has a stainless steel frame, slide and barrel. Other features are 5.5" threaded match grade bull barrel, green front and rear fiber optic sights and it came with two 10-round magazines and a picatinny rail. In this standard configuration, the accuracy was great. I did have a very frustrating problem on my first two range trips with it. I kept getting stovepipes and sometimes the spent case didn't even make it out of the ejection port at all. A little research online and I knew to adjust the ejector. The first adjustment attempt resulted in slightly better ejection, but I was still getting a lot of stovepipes. My second attempt resulted in much better ejection and very few problems. I have since found the sweet spot for the ejector and can attribute all malfunctions to the cheap and very old ammo or operator error.
Takedown for cleaning is achieved by removing one screw just forward of the trigger guard. Once the barrel/receiver are removed from the frame, the slide can be removed by pulling it rearward out of the receiver. If you want to remove the barrel from the receiver, remove another screw below the forward part of the receiver and pull the barrel forward. (This ease of takedown and aftermarket parts replacement also contributed to my decision to buy this firearm).
Not being one to leave well enough alone, I started making "improvements" to the gun. First, I replaced the grips with Tandemkross Hive grips, and then their Game Changer muzzle brake. I then added the Truglo reflex sight and finally the Tandemkross Victory trigger. The Tandemkross Victory trigger was far from the easy install touted on their websight (at least for me with my bigfoot sized hands). I wound up losing the spring and detent and had to order another set from Tandemkross (I actually ordered two to be safe). I eventually got the trigger in, but not before losing another spring and detent. I did eventually find one spring and both detents I had lost. It was well worth the trouble because this trigger is phenomenal. The standard trigger is good, but the trigger pull went from an average of 2lbs 11 oz to 1lb 3oz. The best part is the ability to adjust pre and over travel to whatever is comfortable for you.
These are the groups I got on my last range trip with 10 year old Remington bulk ammo. Both targets were at 15 yards 25 rounds on the large target and 10 on the smaller one.
Garry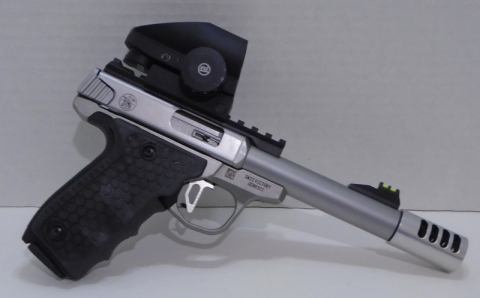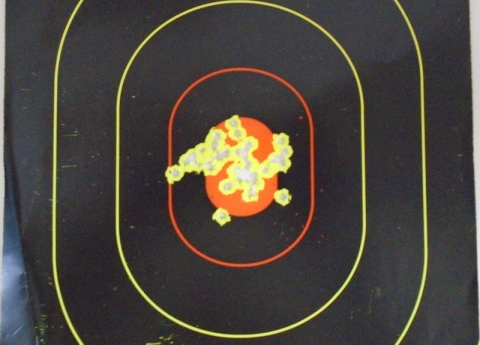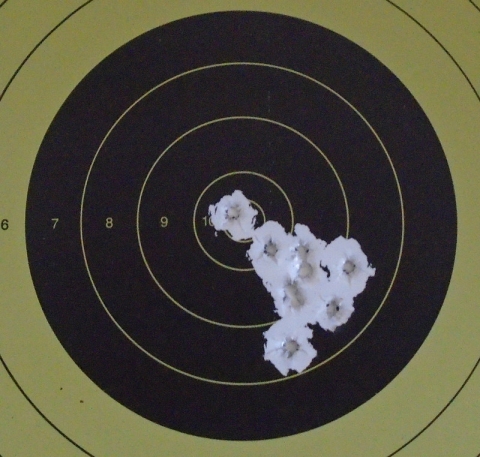 rwsem
SOWELA (Southwest Louisiana)
Members

Moderators

Dans Club
Forum Posts: 5236
Member Since:
February 22, 2009

Online
Nice report Garry.  FWIW- when I work on firearm parts that are under tension, I try to do so inside of a gallon sized baggie.  It's a lot easier to gather the springs, plugs, detent ball, etc.. from inside the baggie.  
Technically, the glass is always full; half liquid, half air....
Forum Timezone:
America/New_York
Most Users Ever Online:
658
Currently Browsing this Page:
1
Guest(s)
Top Posters:
Steve: 10330
SHOOTIST357: 4788
Dave_Ks: 4300
Ole Dog: 3758
Stinger: 3298
Supermagfan: 3198
zoommb: 3160
IHMSA80x80: 3014
Blacktop: 3004
brucertx: 2311
Jerrygreld
BryonNEw
Louisron
Perrybiarf
Gbass4567
Jason Henciak
Joelski
TallCoolOne
julianzq3
Donaldicelf
Forum Stats:
Groups: 11
Forums: 42
Topics: 16485
Posts: 144459
Member Stats:
Guest Posters: 88
Members: 10859
Moderators: 4
Admins: 1
Moderators:
lbruce, Charger Fan, rwsem, SCORPIO
©
Simple:Press
—