Topic RSS
Single Action Revolver Nirvana
October 16, 2018
1:51 am

3ric
Forum Posts: 77
Member Since:
October 18, 2017
Offline
My DW 15-2 is probably my most accurate revolver, but this Uberti open top, believe it or not, is running a close second. With its primitive sighting system it does not hit the point of aim, yet it groups exceptionally well. Just hold a little low and left and you will hit the bullseye every time. An extremely pleasant gun to shoot!
This replica is of a gun that never actually existed. The original Colt 1860 Army conversions were .44 caliber, so Uberti "over built" these to accommodate the .45 Colt cartridge. The workmanship is impeccable, and the roll engraving on the cylinder can only be fully appreciated with a magnifying glass. Awesome trigger. Goes with me to the range every time.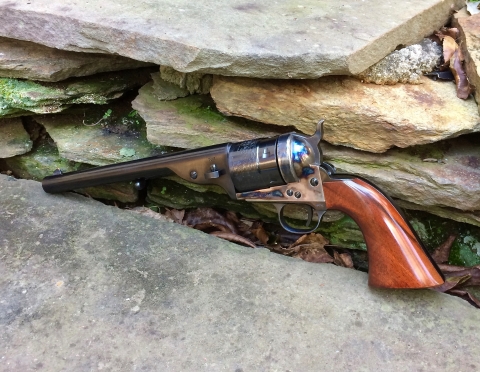 October 23, 2018
10:10 pm

Ricardo China
Forum Posts: 44
Member Since:
December 6, 2015
Offline
October 24, 2018
11:44 pm

3ric
Forum Posts: 77
Member Since:
October 18, 2017
Offline
The open top conversion revolvers are curious guns. The originals were Colt's first cartridge revolvers, and fulfilled that role until the 1873 SAA was developed (along with its new .45 Colt cartridge). When I hold this gun in my hands it occurs to me that it is based on the last revolver design of Samuel Colt (1860 Army), and while it may not be an exact replica of the later conversion of that gun, it serves as a reminder of Colt's genius.
Today's replicas are not only made with much better metallurgy than the originals, they are also properly engineered and heat treated to withstand the appropriate pressures for whatever modern cartridge they're chambered for. STANDARD pressure, that is, nothing remotely approaching +P. Uberti proof tests every firearm they make to 30% over standard operating pressure. For the .45 Colt cartridge that works out to be around 18,000 psi, which means that any modern factory standard pressure (14,000 psi) load is quite safe to use. 
I would think it could even be possible to excessively overbuild an open top revolver design (using modern appropriately heat treated steels) to the point it would be able to fire even magnum cartridges safely. It would be an interesting experiment, and while the gun would perhaps not have the charm or graceful lines of the originals, it would certainly be a curious revolver indeed!
Forum Timezone:
America/New_York
Most Users Ever Online: 76
Currently Online: rwsem
48 Guest(s)
Currently Browsing this Page:
1 Guest(s)
Top Posters:
Steve: 10330
SHOOTIST357: 4788
Dave_Ks: 4282
zoommb: 3157
Supermagfan: 3136
Blacktop: 3004
IHMSA80x80: 2692
Ole Dog: 2445
Stinger: 2329
brucertx: 2310
Newest Members:
OldSlowBob71
Oldherkpilot
bcartabona
Chris Moles
Ivy Crackerboy
GaJoe1950
DBoone79
Francis
Ton
magnum55
Forum Stats:
Groups: 11
Forums: 42
Topics: 14618
Posts: 129575
Member Stats:
Guest Posters: 87
Members: 7079
Moderators: 4
Admins: 1
Site Supporters: 1972ctdc, 70chally, ar-tex, arcnsparc, Artur, atomar, b4delta, BBinger, bikeridertim, BRM, bunny, bwjones0011, CaptDanDD, Caruso4510, challer, DA....64, Dariusz Gut, dbodom, Dettom, Dr.Seuss, DWpistolpackin, ese927, freerider04, Garfield411N, Garymckenzie, GetAGrip, HankB, Headsmaster, hesslism, hester57, Hosspower, JamesF Swidryk, JASJR, john Goldsmith, John Greenley, johnbrandolino, JohnD, JustinPolley, larry260, LG, lonwolf93, Lracmcd, md8232, minmich, Mtn_Eagle, ParaNormal, pete, ray, Rex Beachmont, Rimfire, Roberto, SCORPIO, Starman90, StevenTrate, StillKickin, stovepipe, Sweeney, sweet trigger, Venturerider
Range Officers: brucertx, Dave_Ks, SHOOTIST357, Supermagfan, Tigger, zoommb
Dan's Club: Boeing, brucertx, bunny, Dan Fan, Dave_Ks, DWpistolpackin, ese927, Garfield411N, Gman1956, jaggman, lbruce, lman, lonwolf93, Lracmcd, Maria Perkins, mhannon, Michael Berner, Ole Dog, ParaNormal, Rimfire, riverinerat, RonaldSemerena, rwsem, SCORPIO, snake-eye, Steve, Supermagfan, tikit2ryde, Wheelgunner, willy, zoommb
Moderators: lbruce, Charger Fan, rwsem, SCORPIO