Topic RSS
Pre 357 S&W
June 18, 2018
8:11 am

HDHIC
Forum Posts: 53
Member Since:
February 22, 2016
Offline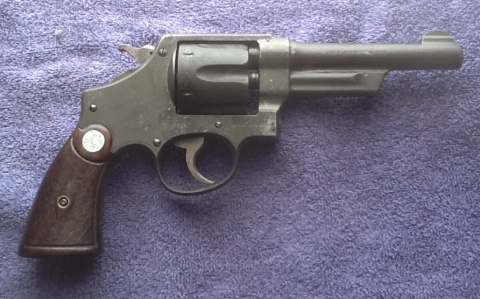 I recently bought this old 38spc. It's a 38-44, called the heavy duty. It is an N frame chambered in 38 spc.
This gun was produced to use a high speed heavy bullet. These would shoot a 170-180 gr bullet at speeds way faster than 38 spc. Remington developed thier High Speed 38 load to shoot through car bodies. Rem. and S&W used this frame to develope the 357. 
This old gun survived an attack by Bubba on the finish but it didn't hurt how it shoots.
HDHIC
June 19, 2018
9:37 pm

Ronald_55
Forum Posts: 42
Member Since:
January 7, 2018
Offline
Forum Timezone:
America/New_York
Most Users Ever Online: 72
Currently Online: lbruce, minmich
56 Guest(s)
Currently Browsing this Page:
1 Guest(s)
Top Posters:
Steve: 10330
SHOOTIST357: 4788
Dave_Ks: 4280
zoommb: 3157
Supermagfan: 3134
Blacktop: 3004
IHMSA80x80: 2692
Ole Dog: 2359
brucertx: 2307
Stinger: 2205
Newest Members:
Adam1064
deerslayer
dgsfrank@adams.net
Gungnir
Norman
PapaGeorge
Boogieman
crazy4life
tolstoy
James DePalma
Forum Stats:
Groups: 11
Forums: 42
Topics: 14432
Posts: 128320
Member Stats:
Guest Posters: 87
Members: 6843
Moderators: 4
Admins: 1
Site Supporters: 1972ctdc, ar-tex, arcnsparc, Artur, atomar, b4delta, BBinger, bikeridertim, BRM, bunny, bwjones0011, CaptDanDD, Caruso4510, DA....64, Dariusz Gut, dbodom, Dettom, Dr.Seuss, DWpistolpackin, ese927, freerider04, Garfield411N, Garymckenzie, GetAGrip, HankB, Headsmaster, hesslism, hester57, Hosspower, JamesF Swidryk, JASJR, john Goldsmith, John Greenley, johnbrandolino, JohnD, JustinPolley, larry260, LG, lonwolf93, Lracmcd, md8232, minmich, Mtn_Eagle, ParaNormal, pete, ray, Rimfire, Roberto, SCORPIO, Starman90, StevenTrate, StillKickin, stovepipe, Sweeney, sweet trigger, Venturerider
Range Officers: brucertx, Dave_Ks, SHOOTIST357, Supermagfan, Tigger, zoommb
Dan's Club: Boeing, brucertx, bunny, Dan Fan, Dave_Ks, DWpistolpackin, ese927, Garfield411N, Gman1956, jaggman, lbruce, lonwolf93, Lracmcd, Maria Perkins, mhannon, Michael Berner, Ole Dog, ParaNormal, Rex Beachmont, Rimfire, riverinerat, RonaldSemerena, rwsem, SCORPIO, snake-eye, Steve, Supermagfan, tikit2ryde, Wheelgunner, willy, zoommb
Moderators: lbruce, Charger Fan, rwsem, SCORPIO