Topic RSS
H&K P9S 9mm Competition Pistol Pack
Just the facts, ma'am
When it came time for a 9mm we picked the H&K P9S Sport or sometimes called the Competition Pistol Pack. They were produced from 1979-1984 and arguably one of the more accurate factory 9mm handguns of it's time. Interchangeable barrels and grips to give you a 4" combat or a 5 ½" competition pistol in the same package.
I owned two P9Ss.
#133012 – Purchased 1/28/85 – Stolen 9/24/85
#137662 – Purchased 5/29/86 – Now in my safe!
Thought not a consideration the H&K has appreciated better than the DW.
http://www.hkpro.com/index.php?option=com_content&view=article&id=59:p9s&catid=6:the-pistols&Itemid=5 
Here are the specs from the book.
P9S Automatic Pistol
Operating principle      Recoil operated
Action  Roller locking system
Feed                Box-type magazine for 9 cartridges
Calibre         9 mm x 19 (Parabellum) (Luger)
Muzzle velocity-Vo              Approx.1.150fps (350 m/s)
Muzzle energie – Eo             Approx. 500 J
Mode of fire             Semi-automatic
Length of pistol         7.6″ (192 mm)
Height of pistol         5.6″ (141 mm)
Width of pistol over grip     1.3″ (34 mm)
Length of barrel         4.0″ (102 mm)
Sight radius              5.8″ (147 mm)
Weights
Pistol, without magazine      Approx. 31 oz. (875 g)
Magazine holding 9 cartridges    Approx. 6.3 oz. (180 g)
P9S Automatic Pistol – Competition Model
Muzzle velocity-Vo  Approx. 1.280fps (390 m/s) 
"close isn't good enough"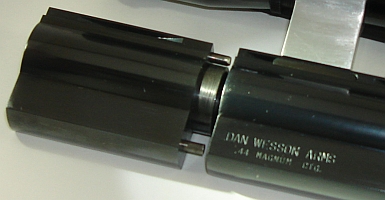 October 10, 2010
7:09 pm

Jody
Salem, Virginia
Forum Posts: 6167
Member Since:
January 22, 2008
Offline
Forum Timezone:
America/New_York
Most Users Ever Online: 74
Currently Online:
55 Guest(s)
Currently Browsing this Page:
1 Guest(s)
Top Posters:
Steve: 10330
SHOOTIST357: 4788
Dave_Ks: 4280
zoommb: 3157
Supermagfan: 3134
Blacktop: 3004
IHMSA80x80: 2692
Ole Dog: 2369
brucertx: 2308
Stinger: 2232
Newest Members:
fmcgroarty
Gus
MacEntyre
eagle7373
Christopher Jones
Mark Norgren
Bob c
David Silvers
revjen45
Captmaui1
Forum Stats:
Groups: 11
Forums: 42
Topics: 14477
Posts: 128563
Member Stats:
Guest Posters: 87
Members: 6892
Moderators: 4
Admins: 1
Site Supporters: 1972ctdc, ar-tex, arcnsparc, Artur, atomar, b4delta, BBinger, bikeridertim, BRM, bunny, bwjones0011, CaptDanDD, Caruso4510, DA....64, Dariusz Gut, dbodom, Dettom, Dr.Seuss, DWpistolpackin, ese927, freerider04, Garfield411N, Garymckenzie, GetAGrip, HankB, Headsmaster, hesslism, hester57, Hosspower, JamesF Swidryk, JASJR, john Goldsmith, John Greenley, johnbrandolino, JohnD, JustinPolley, larry260, LG, lonwolf93, Lracmcd, md8232, minmich, Mtn_Eagle, ParaNormal, pete, ray, Rimfire, Roberto, SCORPIO, Starman90, StevenTrate, StillKickin, stovepipe, Sweeney, sweet trigger, Venturerider
Range Officers: brucertx, Dave_Ks, SHOOTIST357, Supermagfan, Tigger, zoommb
Dan's Club: Boeing, brucertx, bunny, Dan Fan, Dave_Ks, DWpistolpackin, ese927, Garfield411N, Gman1956, jaggman, lbruce, lonwolf93, Lracmcd, Maria Perkins, mhannon, Michael Berner, Ole Dog, ParaNormal, Rex Beachmont, Rimfire, riverinerat, RonaldSemerena, rwsem, SCORPIO, snake-eye, Steve, Supermagfan, tikit2ryde, Wheelgunner, willy, zoommb
Moderators: lbruce, Charger Fan, rwsem, SCORPIO