Topic RSS
The High Standard Sentinel MK III that Dan Wesson built;
February 27, 2015
4:38 pm

David Abney
Forum Posts: 69
Member Since:
January 12, 2012
Offline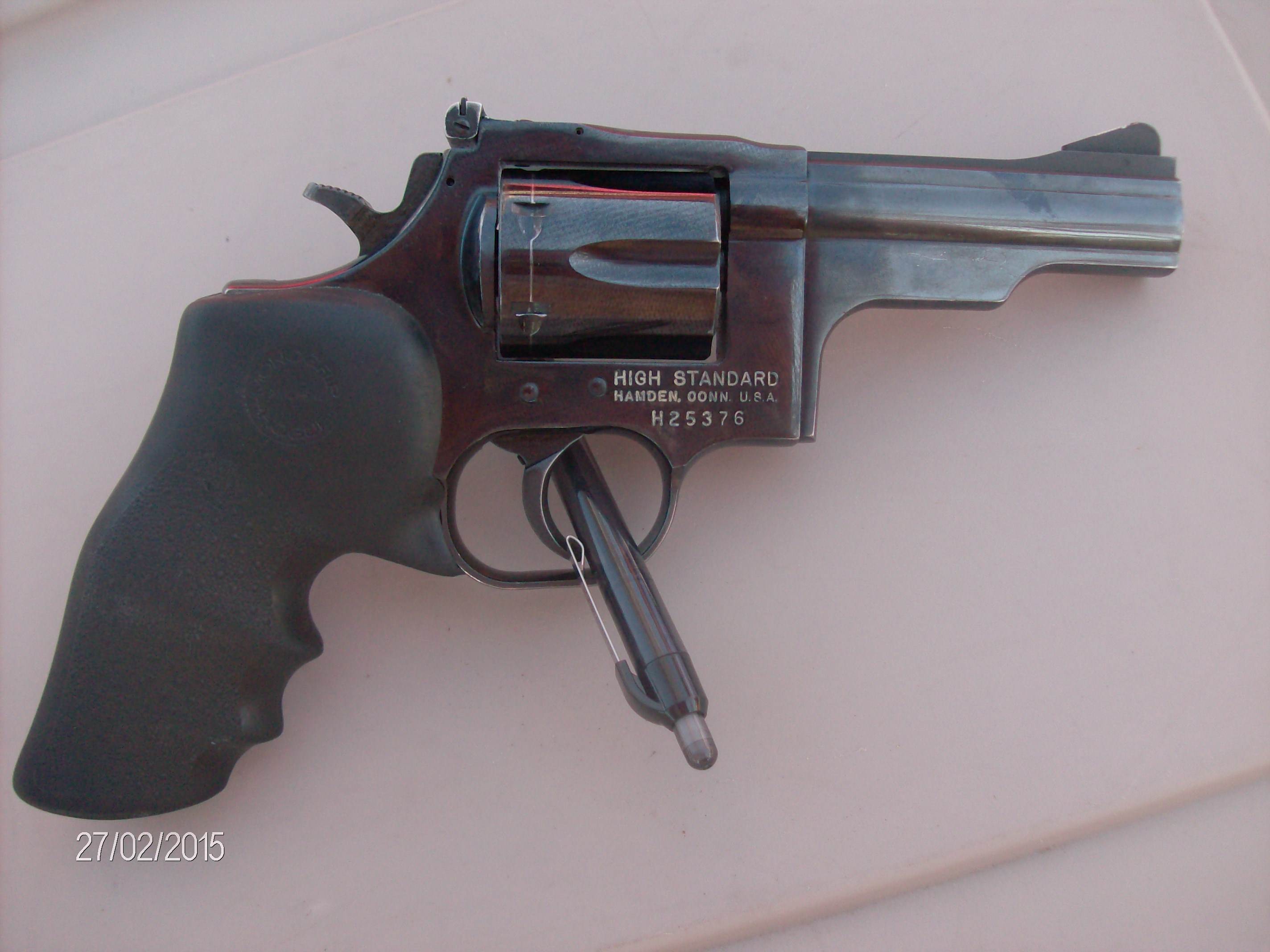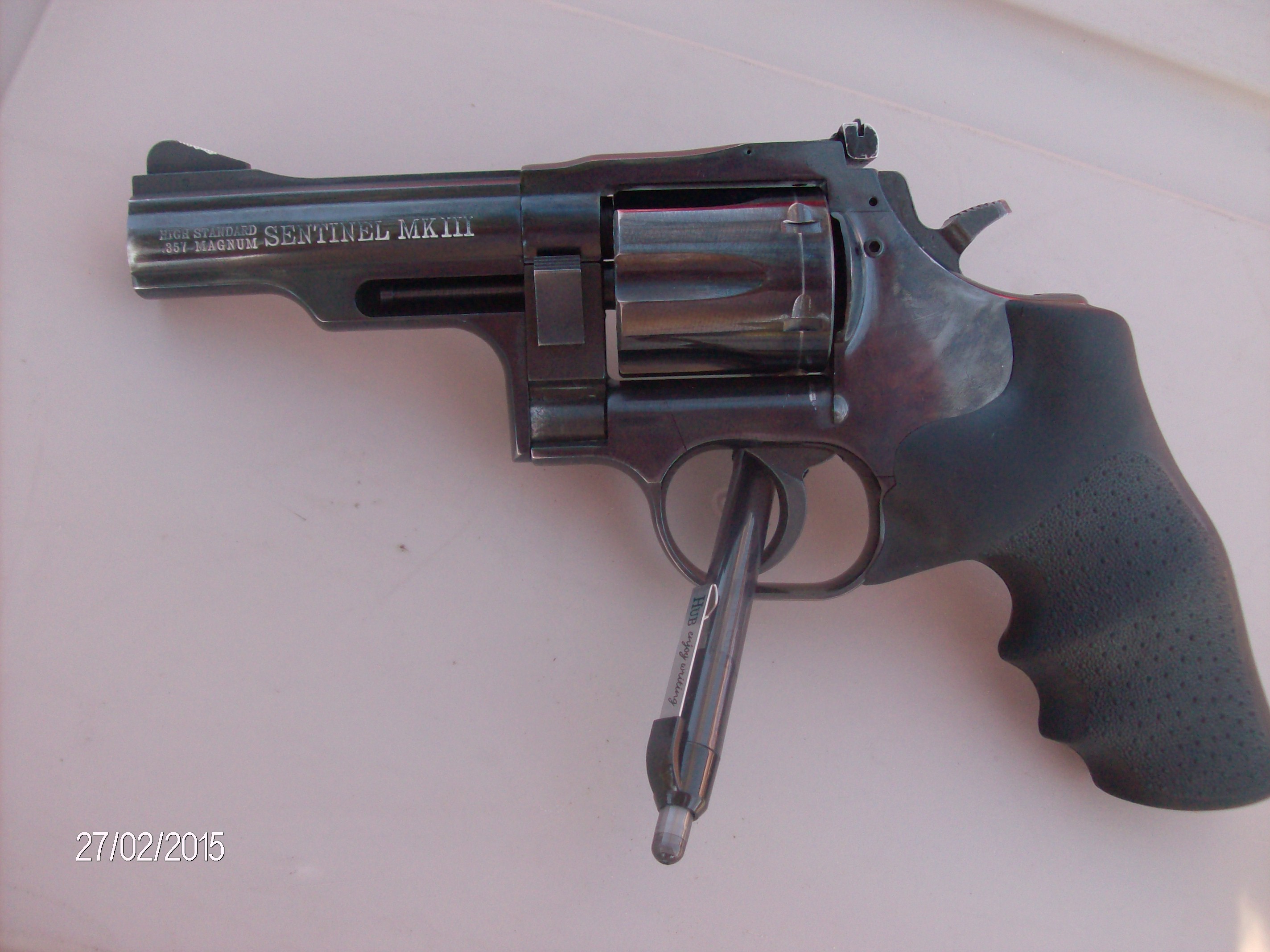 Several years ago I acquired a High Standard Sentinel MK III that is represented in the two photos. I have shot this Dan Wesson Model 15 quite a bit since purchase/horse trade. In the past on this fine forum, the history of the High Standard connection to Dan Wesson in the early years was debated. It seemed, at the time, some DW scholars were of the opinion that High Standard had built the early Models (11 & 12) for the, just started Dan Wesson Company, in or around 1969. Then later, after getting up and running, Dan Wesson  built his own and in the 74/76 time frame, Dan Wesson used his Model 15 with High Standard markings in a contract deal with HS. Was this resolved yet? In one of the many old magazine articles posted on this forum one author supported the HS connection to the Models 11 & 12. I have tried researching the posts on this forum concerning this subject matter and I see a debate unresolved yet. I would appreciate one of my friends here jumping in and getting me straight on the DW/HS relationship. As most of you are aware, I have a Model 11 that I am kinda partial to and finding out if HS built it would be interesting. This Model 15 here, marked as the Sentinel MK III, was used quite a bit in the past 12-months. Accurate, oh yeah, and typically stout with the well known short hammer drop that Dan Wesson owners are aware of. I hope you enjoy the pictures of this High Standard Sentinel MK III.
David
March 1, 2015
2:11 pm

Charger Fan
Northern Utah

Supporter
Forum Posts: 10513
Member Since:
January 24, 2009
Offline
David, have a look at this thread; https://www.danwessonforum.com/forum/dan-wesson-history/dan-wesson-high-standard/
That is an old thread that was started when we were collectively learning about the HS connection to DW. So page 1 has a lot of initial speculation, but page 2 is where most of the answers come in.

Thanks for posting pics of your MK III, it looks great!

Be yourself, everyone else is already taken.
March 1, 2015
4:05 pm

Steve

Dan's Club
Forum Posts: 10330
Member Since:
March 2, 2008
Offline
Thanks for finding and resurrecting John Stimsons' info, I knew it was here and never made the time to search for it.
Long Time since we saw some of those screen names too! 
I went to a bookstore and asked the saleswoman "Were is the Self Help Section?" She said if she told me, it would defeat the purpose.
George Carlin
March 1, 2015
4:10 pm

SCORPIO
PA

Supporter

Range Officer

Dan's Club
Forum Posts: 3561
Member Since:
December 4, 2011
Offline
March 1, 2015
4:18 pm

Steve

Dan's Club
Forum Posts: 10330
Member Since:
March 2, 2008
Offline
Forum Timezone:
America/New_York
Most Users Ever Online: 72
Currently Online:
33 Guest(s)
Currently Browsing this Page:
1 Guest(s)
Top Posters:
Steve: 10330
SHOOTIST357: 4788
Dave_Ks: 4277
zoommb: 3157
Supermagfan: 3113
Blacktop: 3004
IHMSA80x80: 2691
Ole Dog: 2306
brucertx: 2306
Stinger: 2166
Newest Members:
Simeon Ledbetter
dro
Green Frog
Ed Hall
nomad.76
kenjiXL
wolfe
Tactom
Nathan York
jrwatkins1964
Forum Stats:
Groups: 11
Forums: 42
Topics: 14301
Posts: 127490
Member Stats:
Guest Posters: 87
Members: 6692
Moderators: 4
Admins: 1
Site Supporters: 1972ctdc, ar-tex, arcnsparc, Artur, atomar, b4delta, BBinger, bikeridertim, BRM, bunny, bwjones0011, CaptDanDD, Caruso4510, DA....64, Dariusz Gut, dbodom, Dettom, Dr.Seuss, DWpistolpackin, ese927, freerider04, Garfield411N, Garymckenzie, GetAGrip, HankB, Headsmaster, hesslism, hester57, Hosspower, JamesF Swidryk, JASJR, john Goldsmith, John Greenley, johnbrandolino, JohnD, JustinPolley, larry260, LG, lonwolf93, Lracmcd, md8232, minmich, Mtn_Eagle, ParaNormal, pete, ray, Rimfire, Roberto, SCORPIO, Starman90, StevenTrate, StillKickin, stovepipe, Sweeney, sweet trigger, Venturerider
Range Officers: brucertx, Dave_Ks, SHOOTIST357, Supermagfan, Tigger, zoommb
Dan's Club: Boeing, brucertx, bunny, Dan Fan, Dave_Ks, DWpistolpackin, ese927, Garfield411N, Gman1956, jaggman, lbruce, lonwolf93, Lracmcd, Maria Perkins, mhannon, Michael Berner, Ole Dog, ParaNormal, Rex Beachmont, Rimfire, riverinerat, RonaldSemerena, rwsem, SCORPIO, snake-eye, Steve, Supermagfan, tikit2ryde, Wheelgunner, willy, zoommb
Moderators: lbruce, Charger Fan, rwsem, SCORPIO