lonwolf93
Lancaster Pa
Members

Dans Club

DWF Supporters
Forum Posts: 1567
Member Since:
April 20, 2010

Offline
Here are a couple quick pics of the PM7 I just received. I bought it from a gun shop in Poplar Bluff, MO. called Shooter's Shack. I talked to the guys on the phone there a couple times, they were great guys and awesome to buy from. If any members are ever in that area stop in.
   I got a very nice PM7, in the original box, 2 original mags, with all the paperwork, tool, fired casing, etc. and even a little sticker. Paid $850, and they shipped it for $10, not quite as good as Rwsem did on his, but I am still happy! I would personally like to thank forum member Waldo Pepper for his original post which led me to this Dan.
   When I picked it up from my FFL, I told him I never owned a 1911 before. He said "well most people that get one love them and end up getting more than one". I thought, oh great, another addiction I'm getting into!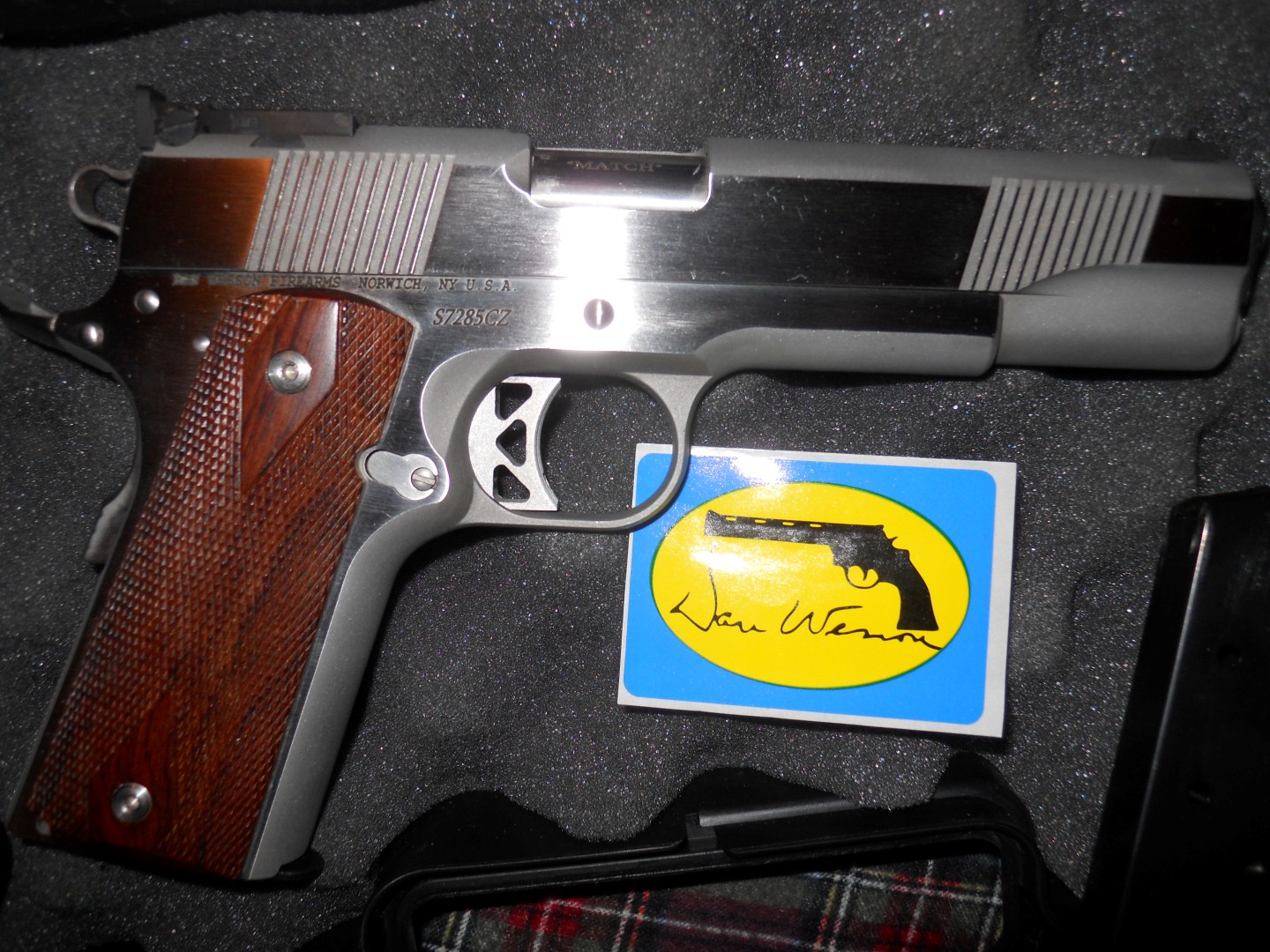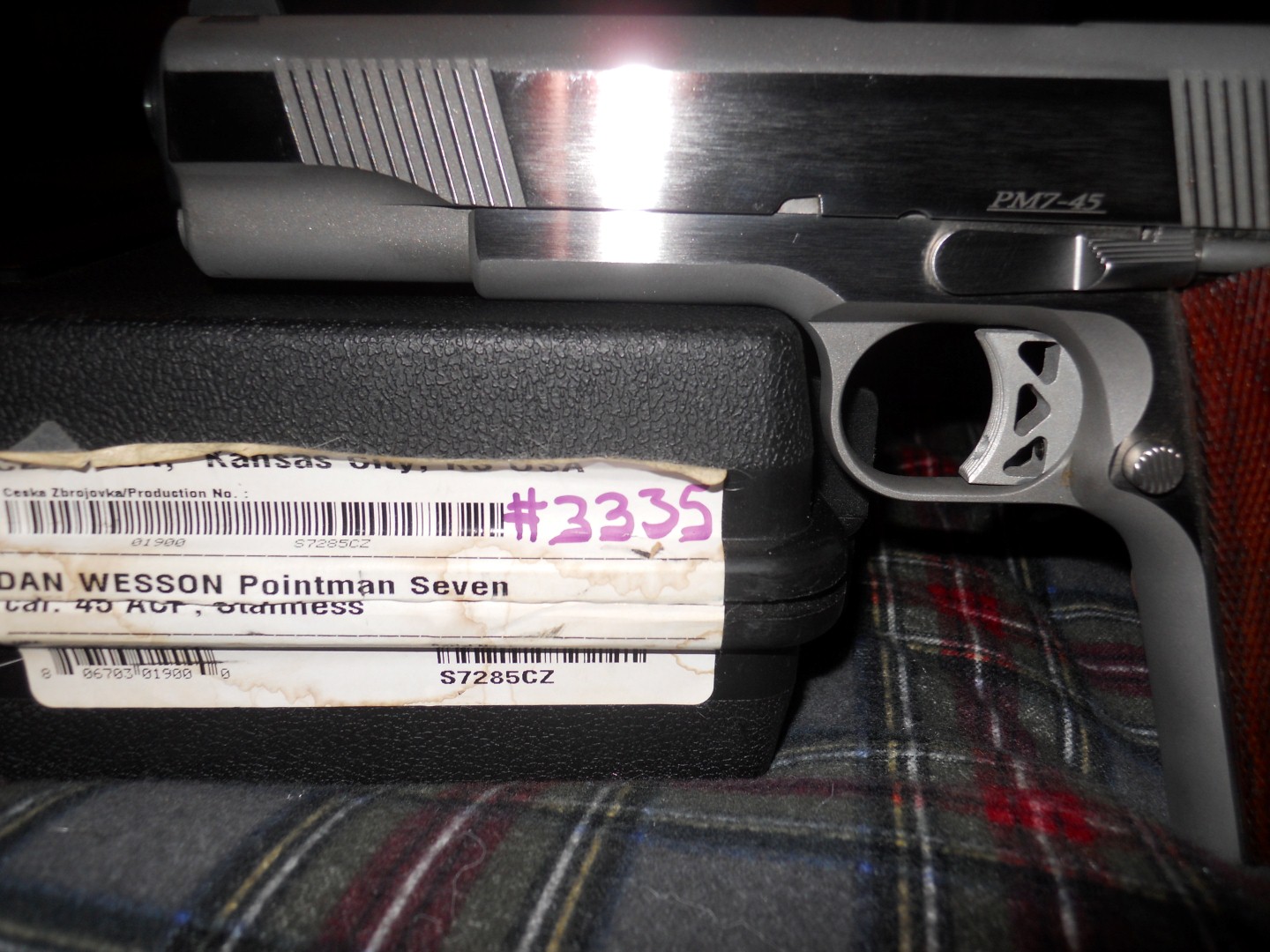 "The lion and the tiger may be more powerful, but the Wolf does not perform in the circus"

DakotaJack
SD
Forum Posts: 1552
Member Since:
August 29, 2009

Offline

rwsem
SOWELA (Southwest Louisiana)

Supporter
Members

Moderators

Dans Club
Forum Posts: 4757
Member Since:
February 22, 2009

Offline

Steve

Dans Club
Forum Posts: 10330
Member Since:
March 2, 2008

Offline
That is a great price for a PM7, and he's right, 1911's can be pretty addictive.
My first 1911 was a Taurus PT1911 which I bought new for a great price and loved shooting and customizing a little. I traded it to get my PM1-S, a great trade up.
My hope and dream is to get a 1911 in .38 Super Auto. I know I'll never be able to afford a DW, RIA has them available at a good price, and there are Taurus 1911 .38 Supers available in the used market.
I went to a bookstore and asked the saleswoman "Were is the Self Help Section?" She said if she told me, it would defeat the purpose.
George Carlin

lonwolf93
Lancaster Pa
Members

Dans Club

DWF Supporters
Forum Posts: 1567
Member Since:
April 20, 2010

Offline
harly said
Nice looking .45.  Let us know how it run after you get it out.
Oh, it runs great, I shot a half a box thru it this afternoon.
   Steve, I think you read my mind, I would love a 1911 in .38 Super, if I get another one it will be that caliber. A 9mm would be more practical, but the .45 auto and .38 Super are just classic 1911 cartridges I think.
-Lonwolf
"The lion and the tiger may be more powerful, but the Wolf does not perform in the circus"

Charger Fan
Northern Utah

Supporter
Members

Moderators
Forum Posts: 10552
Member Since:
January 24, 2009

Offline

IHMSA80x80
Forum Posts: 2747
Member Since:
April 25, 2008

Offline

Supermagfan
Pennsylvania

Range Officer
Members

Range Officers

Dans Club
Forum Posts: 3149
Member Since:
February 9, 2009

Offline
Forum Timezone:
America/New_York
Most Users Ever Online:
343
Currently Browsing this Page:
1
Guest(s)
Top Posters:
Steve: 10330
SHOOTIST357: 4788
Dave_Ks: 4293
zoommb: 3157
Supermagfan: 3149
Blacktop: 3004
IHMSA80x80: 2747
Ole Dog: 2630
Stinger: 2558
brucertx: 2311
raganzel
shansoule3
mike668
Jarhead1986
dean1650@comcast.net
1096369fred
JohnRBowker
Colchester
Wendell Griffin, Jr
BJDDA50
Forum Stats:
Groups: 11
Forums: 42
Topics: 15056
Posts: 132546
Member Stats:
Guest Posters: 87
Members: 8003
Moderators: 4
Admins: 1
Moderators:
lbruce, Charger Fan, rwsem, SCORPIO
©
Simple:Press
—