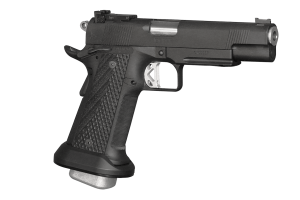 Discontinued 2019.
This new double-stack 9mm is for competitors who don't have to worry about a power factor requirement such as in 3-Gun. Built to tackle the rigors of the sport, the Chaos has 23+1 rounds on tap. Like all of our Elite Series Dan Wessons, it is hand built on a double-stack 1911 frame and tuned to perfection. With high capacity, superbly crisp trigger and flawless reliability, the Chaos truly does reign supreme.
Specifications
Frame Material
Cast Carbon
Trigger Mech
Single Action
Safety
Ambi thumb safety, grip safety
Product Name
Elite Series Chaos
Features
Adjustable Rear Sights, Great at the range, this adjustable rear sight has a serrated rear face, knocking down glare and giving a crisp sight picture.
Competition Magwell, Smooth reloads are made easy with the addition of an oversized competition magwell to help funnel mags into the gun.
Flat K-Style Trigger, The textured flat face long trigger is our take on the popular k-style trigger.
G10 Grips, To make this pistol stand out, custom G10 grips have been added to help drive the shooter's hand high in the beavertail and provide a great texture.
Low Mass Hammer, This hammer was designed with performance in mind, all excess weight has been removed and the hook and engagement surfaces have been polished.