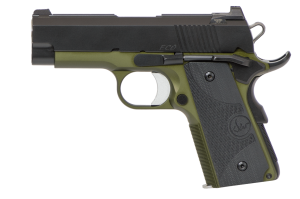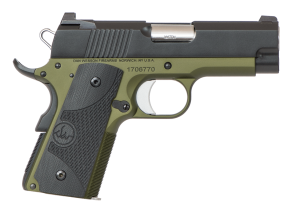 Discontinued 2019.
There has never been a higher demand for self-defense handguns than there is today. The greatest demand is for the smallest, lightest gun available, but this has drawbacks. Generally, these guns are difficult to shoot well, lack stopping power and recoil can be a problem. If you can't hit or stop what you are shooting at, what good is the handgun? We can understand all of these concerns as we face them every day as well. We wanted to give our customers the smallest, lightest gun that we could without sacrificing accuracy, dependability and stopping power.
Presenting the ECO, a true single stack officer size 1911 weighing in at only 25 oz. For years the officer 1911 has been criticized for reliability. We have taken care of that by using some of the latest technology as well as our background in doing what others say can't be done. This gun has all the latest and greatest we have to offer.
The ECO wears tritium night sights with our tactical ledge sight on the rear of our lightweight 3.5 inch slide. The barrel is a flush-cut ramped bull barrel with target crown rather than the traditional barrel and barrel bushing. This makes the gun slightly more compact and easier to disassemble. The recoil system is quite unique for this style of 1911 as we use a solid, one-piece guide rod and a flat recoil spring that is rated for 15,000 rounds in .45 ACP. That is 15,000 rounds! Not 500 rounds like most 1911 dual recoil systems are rated for. This is unheard of in a production 1911! This recoil system also gives the benefit of a smooth slide for easier operation and less felt recoil.
Trigger pull, like all of our 1911s, is short and crisp at around 4 lbs. This helps achieve the accuracy you have come to expect from a Dan Wesson. The frame is anodized aluminum and features an undercut trigger guard and 25 LPI checkering. The mainspring housing is also aluminum with 25 LPI checkering and a rounded bottom corner for concealability and shooting comfort. These features coupled with the high ride grip safety and our new slim line DW carry G10 grips really help you hold onto the gun for faster follow-up shots and recoil control. Just like our Guardian, the ECO slide and small parts are treated with our Duty finish and available in both 9mm and .45 ACP. Stopping power is not a concern.
If you are looking for a compact, lightweight and reliable 1911 that beats the competition, look no further than our ECO. We are confident you won't be disappointed. New for 2018 is the addition of our OD green anodized finish.
Specifications
Frame Material
Forged Aluminum
Trigger Mech
Single Action
Front Sight
Fixed Night Sight
Safety
Manual thumb safety, grip safety
Features
Ball End Mill Cut, This cut accentuates the carry cut and slightly modifies the appearance.
Fixed Night Sight, A Novak-style snag-free sight with tritium self-illuminated vials.
Frontstrap 25 LPI Checkering, Sharp, 25 LPI checkering, giving plenty of grip without being too aggressive.
Mainspring Housing Checkering, Our 25 LPI checkering on the flat mainspring housing provides the means for a superb grip.
Medium Solid Trigger, This is a slightly shorter length trigger with serrated face.
Rear Tactical Night Sight, With an abrupt front face, our tactical rear sight allows for one-handed racking of the slide and has a single tritium vial dead-center below the sight's notch.
Rounded Butt Profile, With a rounded butt profile, those with larger hands tend to find greater shooting comfort as well as less printing while carrying concealed.
Tactical Hammer, The skeletonized hammer helps to reduce weight and maintains the clean look of the pistol.
Top Rib, A Clark-style rib on the top of the slide helps knock down glare.