The information below is from a post on Greybeard Outdoors.  I give full credit to DWTim for posting this information.  Visit the Greybeard site to see the orginial post.
---
Yes, friends, it's the Tactical Dan Wesson Stuck Barrel-nut And Barrel Removal Tool. I will be applying for a patent shortly.  It all started after I noticed some scratches in the barrel of a 375SM I'd just bought. I figured I'd just unscrew that sucker and send it back to DW for inspection, right? Wrong! Those internal bbl nuts, they seem to be either too loose or too tight. And when they're too tight…Post-operation observation reveals that there was apparently some gummy tape residue in the threads and the shroud. That and the nut was just too darn tight. My attempt at turning the nut absolutely butchered it, so I fumed, put it away and waited over a month to tackle it again.Then I came up with the idea of turning the barrel inside the shroud. I'm posting the results so that someday, somewhere, someone else with the same problem can benefit. Or, you can have a good laugh at my expense.

Step 1: The TDWSBABRT fully prepped and ready for action. Note the hi-tech clamping device. It may look like some scrap wood left over from my dryer vent project, but it's not! It's hi-tech stuff, I swear!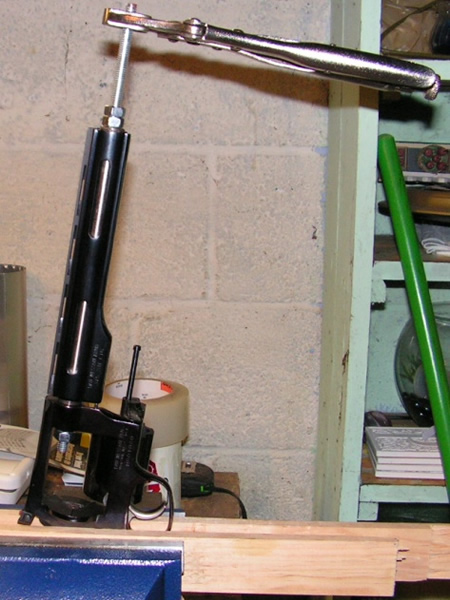 Step 2: Here you can see my Torque-loque(tm) system, giving good grip on a 5/16″ screwrod. These may look like penny parts from a hardware store, but do not be fooled!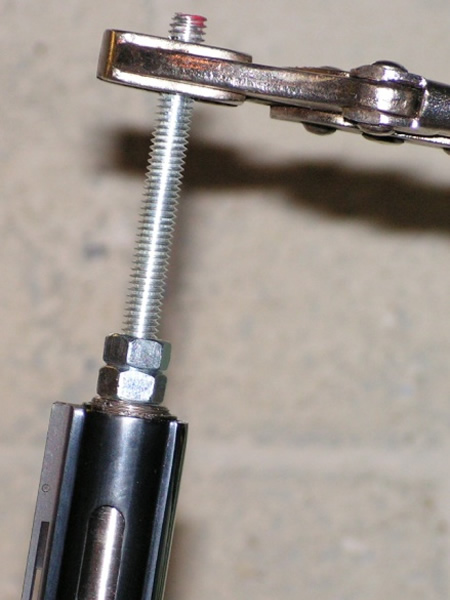 Step 3: Here you can see the double-nut on the forcing cone side. This is after I popped the barrel. It turns out that the nuts were just the right size to fit through the frame as I turned the barrel out.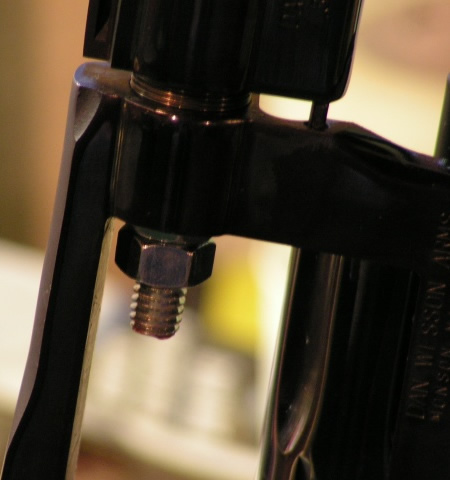 Step 4: Okay, seriously, though. With common tools and $1.16 worth of hardware, and a little gentle nudging on the vice grips, I saved myself a ton of aggravation and some cash, too. Here you can see the butchered nut.